"Show me a family of readers, and I will show you the people who move the world." – Napoléon Bonaparte
As the school year comes to a close and summer approaches, we need to encourage families to read and learn with their children at home. If our students are actively reading and learning at home, then they increase their knowledge, do better in school, and grow empathy and appreciation for lives lived much differently than their own. In order to help you encourage families to read at home, I am sharing with you reading challenges, reading adventures, and ways for families to receive free books. I also share recommended reading lists for elementary to high school students.
Free Family Newsletter Template
Send families a summer newsletter filled with information, resources, and tips. Families want their children to succeed but they don't always know how to go about this. Copy and edit the Family Newsletter template I've created for you to easily and quickly share with families. I've included some of the resources I've shared in the Wakelet and slide presentation below. The links to the resources are in the notes section of the slide. Just click this link for the English version and this link for the Spanish version. You may want to check my Spanish translations. Choose Use Template then edit as you need. You can then go to the File tab, choose Download and PDF. Post the PDF in your messaging app (Class Dojo, Remind), in a virtual classroom (Google Classroom, Schoology), or email to parents.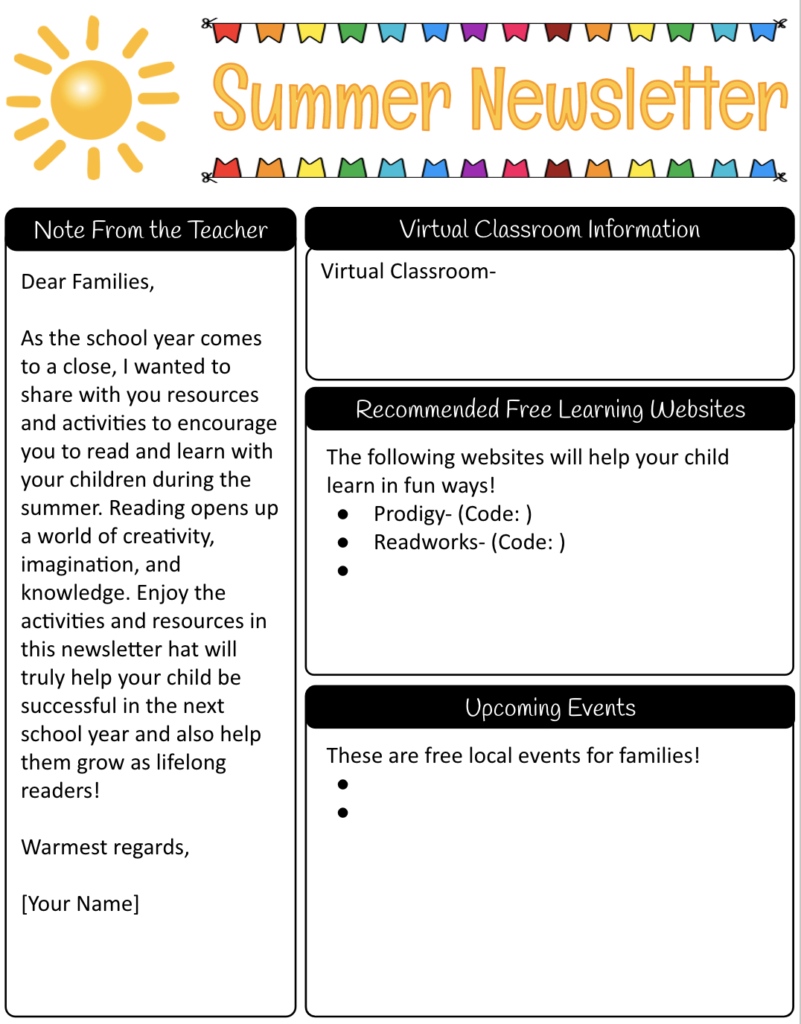 My newsletter starts families off but you can also include recommended reading lists. Find reading lists by grade level on the What We Do All Day website and the We Are Teachers website. You may also want to provide a list of recommended learning platforms and any class codes. This may include include Prodigy, Get Epic, or Code.org. Find a list of free education websites here. Share local learning events around the city. Find these events listed by the local library, the community events calendar, Facebook local events, the children's events website, the tourist website, the local newspaper or the parks and recreation websites. Also, share websites and places to receive free books, such as a map of free mini libraries around the area, Amazon's free Kindle books, ReadWorks, or Youthpedia. Provide information on how to get a library card and access the digital materials.
Subscribe for FREE to receive regular updates!
Get your copy of Hacking Digital Learning or The 30 Goals Challenge or take a fully accredited online course for graduate credit (Online Learning Best Practices, Connected Educators or TESOL Methodologies)!
Bookmarked Resources