Like many teachers, I've been busy planning for the upcoming school year. I want to make sure that the virtual learning is engaging and effective and all about connections and wellness. Recently, I discovered this fun idea by Emma Pass in her ebook, The Hybrid Teacher, to add a gif in your slides to get students moving. I was so inspired by the idea that I created brain break workout with an astronaut gif. I also have two lesson template examples of how you can use this idea to get your students moving in a fun way! Feel free to copy and edit the templates below as you wish.
Move with the Gif Template
Below is a brain break workout I created with Google Slides. Click here to copy and use my template. You can find movement gifs by doing a search on Google Images in Slides, but I had better luck finding similar gifs with different movements on Giphy.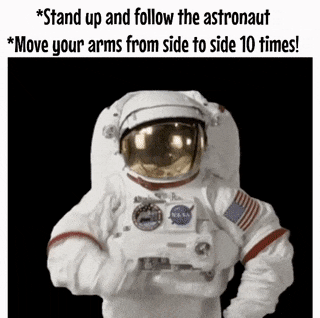 Two Ideas for Integrating in Slides
One idea is to have a designated brain break in the middle of your live session (Zoom, Meet, or Teams) like the slides show you below. Click here to use my lesson template. The brain break starts on slide 12.
Another idea is to randomly place the movements throughout your live session as shown in the slideshow below. Click here to use this lesson template. Check out slides 2, 6, and 11.
? More Brain Breaks
Need more brain breaks? Click here to copy my Slides template with a bunch from some of my favorite YouTube Channels. If you have a recommendation then add the link to the comments and I'll add it to the template.
?Discover more ways to integrate technology effectively by taking one of my fully accredited online courses or get one of my books!
Schools worldwide are in need of educators who can engage students of all ages in an online platform and facilitate students' learning success virtually. In the course, Online Learning: Best Practices to Leverage the Power of Distance Learning, participants discover hands-on how to continue the learning process at a distance even during inclement weather, a health crisis or other safety issue. Additionally, participants will create distance learning products and receive feedback from their peers and the instructor, a global leader in online learning, Shelly Sanchez Terrell (@ShellTerrell). For more information about this class, click here.
Subscribe for FREE to receive regular updates!
?Get your copy of Hacking Digital Learning or The 30 Goals Challenge or take a fully accredited online course for graduate credit (Online Learning Best Practices, Connected Educators or TESOL Methodologies)!