The first step in student ownership of their own learning is goal setting. We can help students identify what they know, how they want to grow and commit to plans to making this happen. One way I help my students set learning goals is by having them complete the vision board template below, which is free for you to copy and assign to students. I also tie this to the "One Word Project." You can read more about student vision boards in my book, The 30 Goals Challenge for Educators: Small Steps to Transform Your Teaching.
?Discover more ways to integrate technology effectively by taking one of my fully accredited online courses or get one of my books!
Student Examples
Below is a student example and a Buncee template you can use with your students. Check out more student examples here.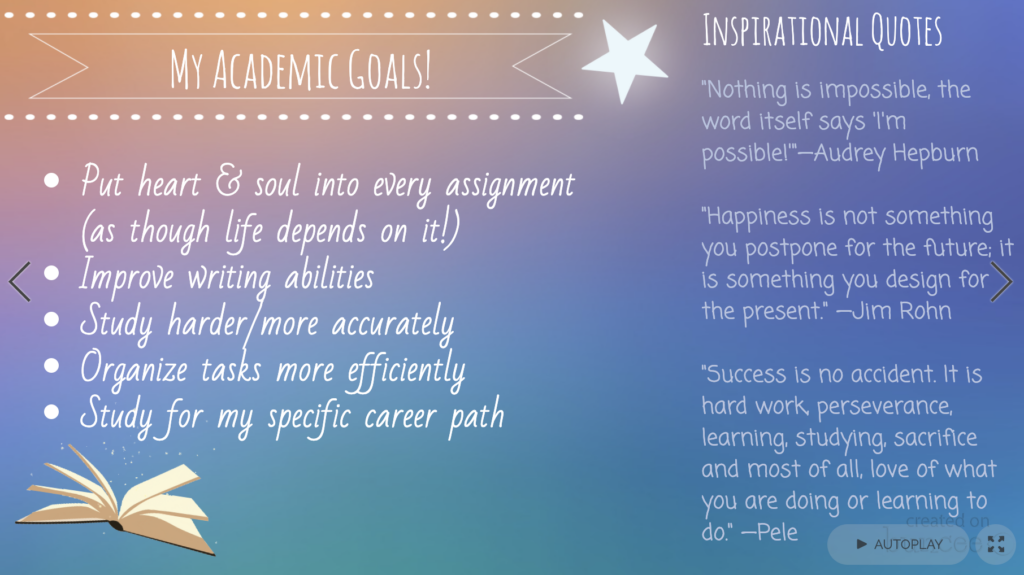 Web Tools & Resources for Creating Vision Boards and Setting Goals
Below are some other free web tools and apps I recommend.
Google Slides is another option for creating student vision boards. Find examples on the post, Student-Created Vision Boards with Google Slides, by Shake Up Learning.
Google Jamboard, LinoIt and Padlet allow students to post their goals on a collaborative web wall or students can create an individual vision board where they can add pdfs, files, audio, video, and images. Check out this example of my class goals here and an inspiration board here!
Wakelet is a free curation tool and app where students add videos, photos, quotes, Flipgrid videos, and more collected from the web! 
Canva is a web tool and iPad app with a free library of stock images, stickers, and graphics. Find simple instructions and an example of a vision board here.
Genial.ly is a free web tool for creating interactive visuals, including infographics, presentations, interactive slideshows and so much more.
Smore is a web tool to create digital flyers and posters with videos, icons, and images.
Pic-Collage is an iOS and Android app for creating visual collages that can include video. Also, find a library of stickers, frames, and templates.
Pinterest is a free and popular curation web tool, iOS/Android app, and bookmarklet to easily pin inspiring posts, documents, videos, and images to a board.
On Teachers Pay Teachers you can find several free templates and lesson plans for student goal setting. Check out the free lessons below:
Check out this article with more ideas, 5 Fun Ways to Start Setting Goals with your Students Today.
Subscribe for FREE to receive regular updates!
?Get your copy of Hacking Digital Learning or The 30 Goals Challenge or take a fully accredited online course for graduate credit (Online Learning Best Practices, Connected Educators or TESOL Methodologies)!
Digital Advent Calendar
Just click on the day and find a post full of free STEM resources and ideas ☃️If you enjoy these resources, then take one of my fully accredited continuing education and graduate online courses or check out my book, Hacking Digital Learning Strategies with EdTech Missions!